Posted by Pete on Apr 21st 2022 The story of John Muir, the Father of the National Parks...
America was a country built on immigration, so it seems only right that one of the most influential Americans ever was in fact a man from Scotland.

John Muir was born today in 1838, in Dunbar, East Lothian. Like any Scottish schoolboy, he spent his childhood re-enacting the feats of Scottish heroes like Robert the Bruce and William Wallace.

This made him a good fit for the United States, another country proud of beating the English…

Muir's family emigrated to Wisconsin in 1849. His dad was a strict Presbyterian, who found the Church of Scotland too lenient in its application of the Bible. The family moved to the US for some more religious rigour.

But it wasn't the theology of America which young John fell in love with. It was the land.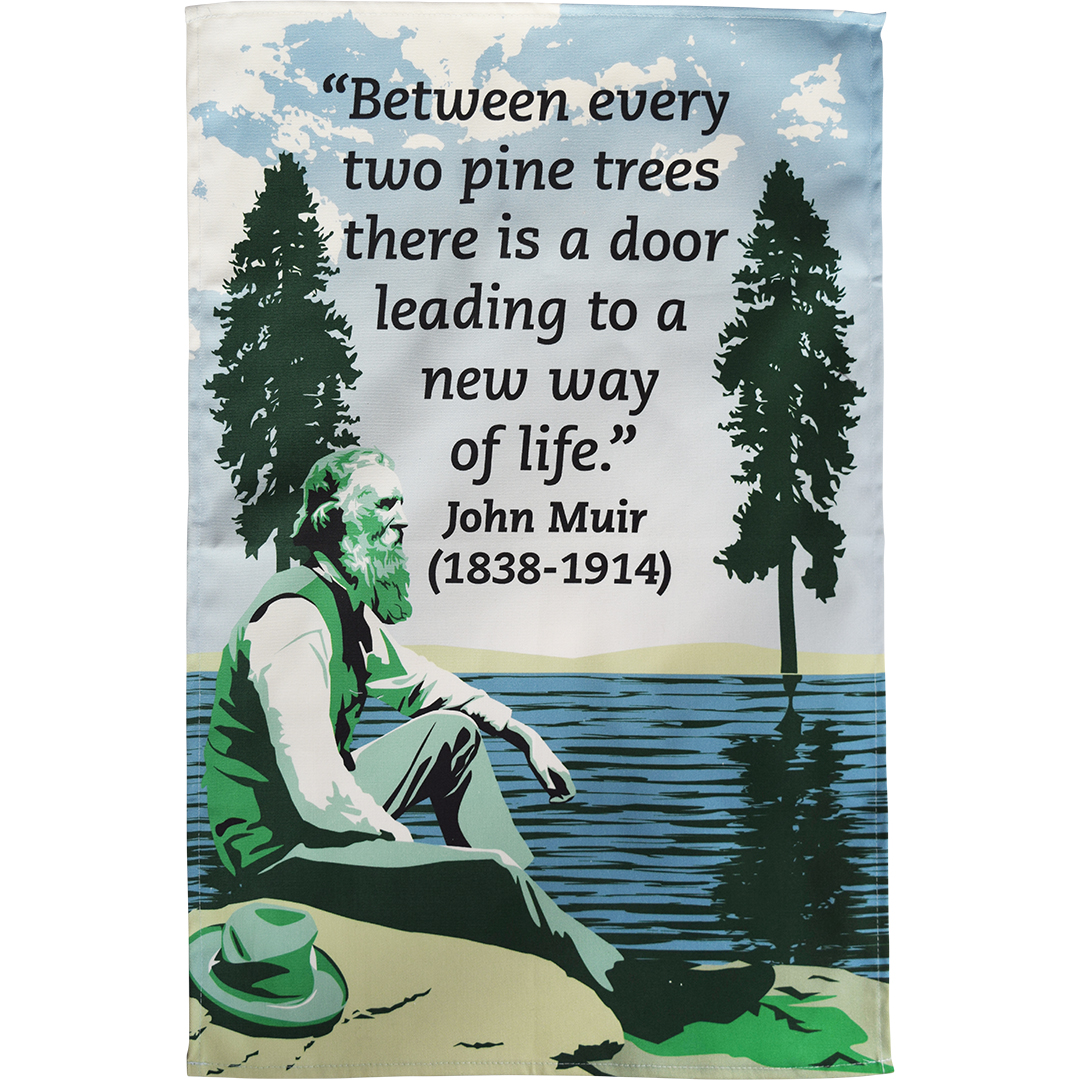 Now available on our US and UK websites, our brand new John Muir tea towel
Click here to view our John Muir tea towel

As the United States expanded violently across North America, displacing Native Americans and conquering Mexican territory, it laid claim to some of the most stunning landscapes in the world.

After getting an education in botany at the University of Wisconsin-Madison, John Muir set out to see it all.

In 1864, he followed his brother into Canada to avoid conscription into the Union Army. North of the border, he took in the woodlands of Southern Ontario.

Three years later, back in the US, he walked 1,000 miles from Kentucky to Florida, following the "wildest, leafiest, and least trodden way I could find."

Then he moved to California, which the US had conquered from Mexico twenty years before.

Muir spent most of the rest of his life here on the West Coast, where his love for American wilderness developed into a political mission.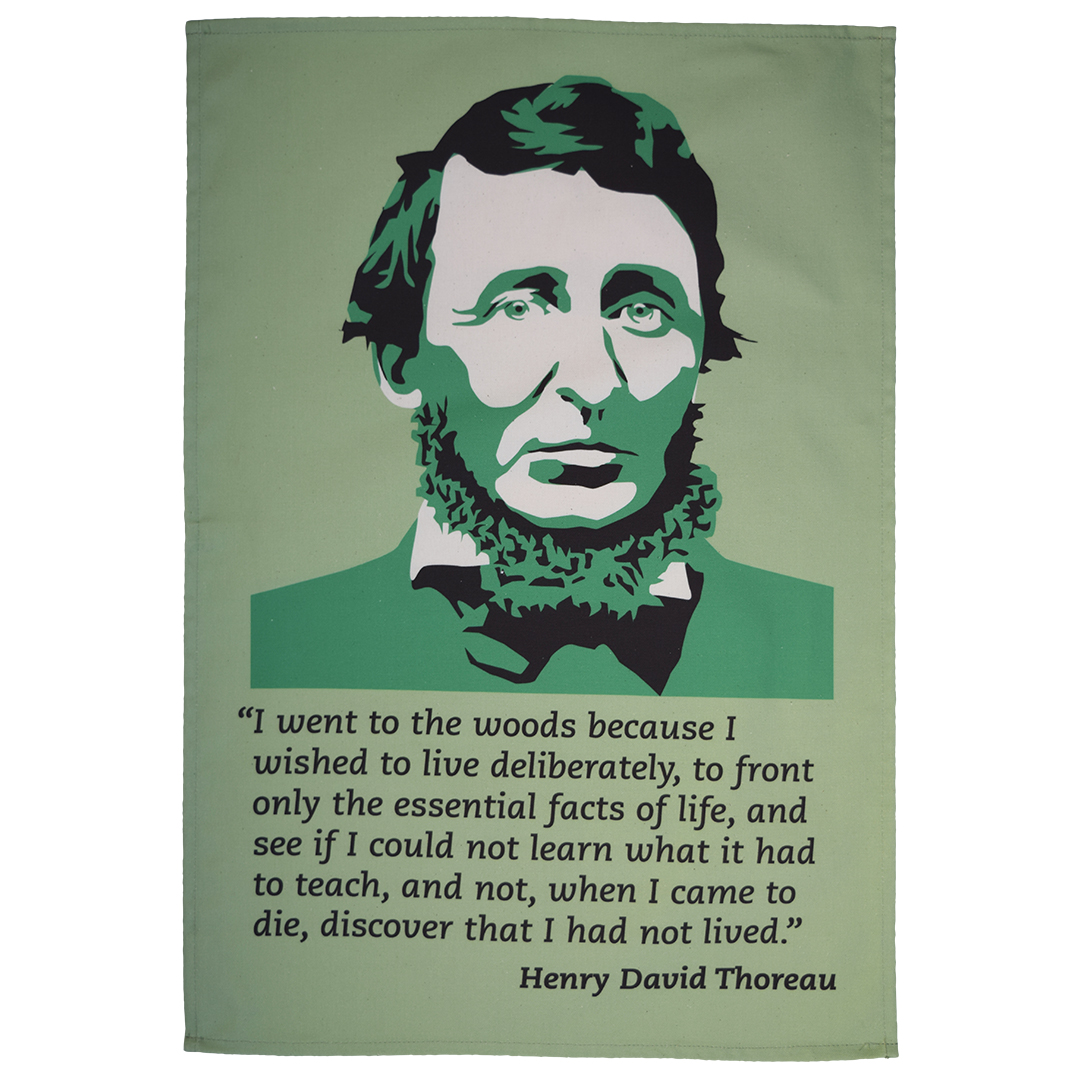 Muir was heavily influenced by the writings of Henry David Thoreau, the naturalist and transcendentalist philosopher
Click to view our Henry David Thoreau tea towel

He spent a great deal of time in the Sierra Nevada and what is now (because of Muir's campaigning) Yosemite National Park.

As well as the poetry of Robert Burns, Muir read Henry David Thoreau and Ralph Waldo Emerson – writers who saw the sublime in the natural world.

For John Muir, nature was literally sacred. The valleys and mountains of Yosemite were just as God originally made them, as yet unchanged by roadworks and city-building.

The wilderness was another Bible – 'the Book of Nature,' as he called it. He even turned down a job offer at Harvard to stay living in the California wilds:
"I never for a moment thought of giving up God's big show for a mere profship!"
He was being offered such posts because of his nature-writing and amateur scientific work. Despite his limited formal training, Muir made some serious contributions to 19th century US geology.

Against the convention that the Yosemite Valley had been forged by a massive earthquake, Muir correctly suggested it had been formed by ancient glaciers.

He also wrote several best-sellers about his experience of the US wilderness, although he hated the task:
"No amount of word-making will ever make a single soul 'know' these mountains. One day's exposure to mountains is better than a cartload of books."
Growing in status, 'John of the Mountains' was increasingly able to wield his influence to protect "God's big show" from the appetites of a growing industrial economy.

This is where his real legacy lies: in his emphasis on preservation and stewardship in the face of rampant extractivism and destructive capitalism.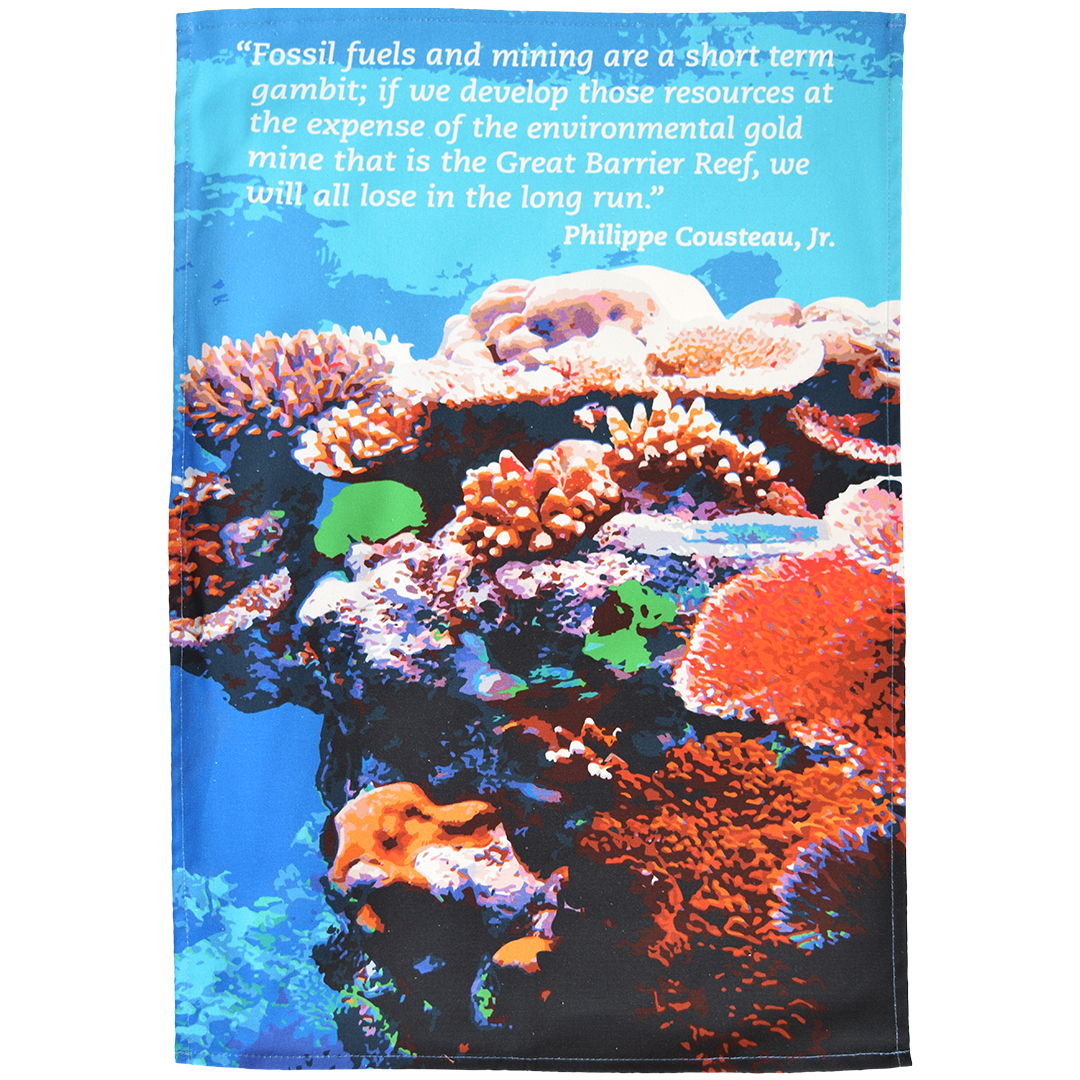 Many contemporary environmentalist movements consciously echo Muir's language of short-term profit versus long-term gain
Click to view our Great Barrier Reef tea towel

The US hadn't conquered California for the sake of the scenery: it wanted resources, wealth, and land to mine and farm.

But John Muir was having none of it.

He successfully lobbied to make Yosemite a National Park in 1890. Two years later, he co-founded the Sierra Club, which promoted the preservation of wilderness and pushed for national forest reservations. To this day, it is one of the most important environmental organisations in the world.

Muir won battles and he lost them. Many he didn't fight at all.

He fell in line with the dominant prejudices against African Americans in late-19th century society, and generally scorned Native Americans, who had a far better claim to sovereignty over the lands he adored than the United States government.

But the bright side of John Muir's legacy was an absolute commitment to preserving the natural world, without conditions. Speaking against the proposed Hetch Hetchy Dam in Yosemite, he roared:
"Dam Hetch Hetchy! As well dam for water-tanks the people's cathedrals and churches, for no holier temple has ever been consecrated by the hearts of man."
Of course, there are several more radical traditions of ecological thinking in America, not least those developed by indigenous peoples.

But in a moment when our world is under threat from the same economic dogma that dammed Hetch Hetchy, there's surely something we can all learn from Muir's passion for the land he so loved.