Posted by Pete on Mar 11th 2019
Back in 2012, "Django Unchained" shook up the film world as Quentin Tarantino's latest masterpiece.
The film's central figure, Django (depicted memorably by Jamie Foxx) escapes his enslavement to fearlessly seek retribution against the institutions of human bondage and terror in the mid-19th century South.
Django was a fictional character, but his invention was inspired by countless real individuals who exhibited similar heroism.
Of these real life Djangos, few were as unlikely – or as impressive – as Harriet Tubman, who died 106 years ago today.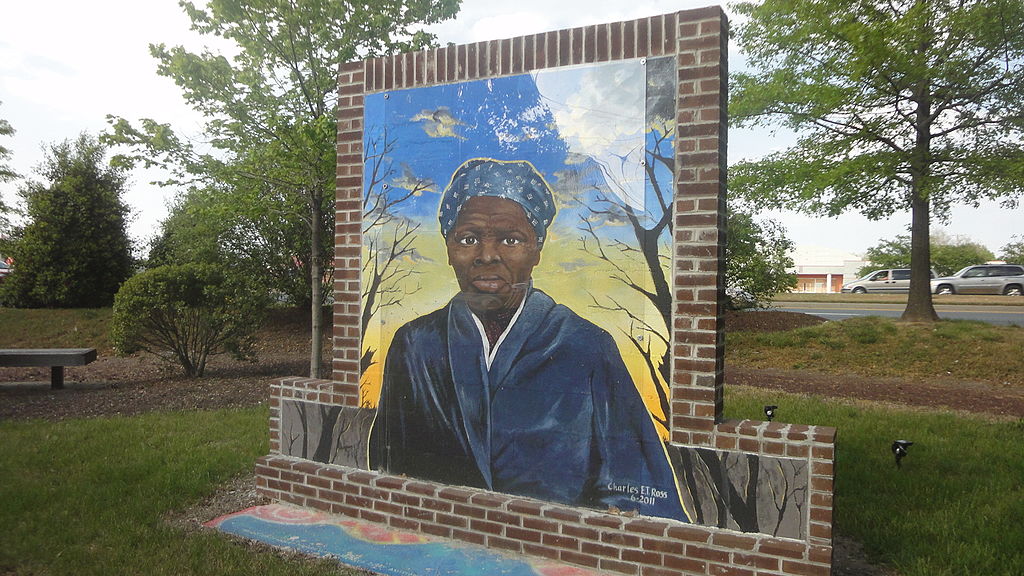 Above: A memorial to Tubman near her birthplace in Dorchester County, Maryland, which was designated as a United States National Monument by President Obama in 2013
Image Credit: Preservation Maryland
Tubman: the conductor of the Underground Railroad
Just 5 feet tall, Tubman didn't necessarily fit the profile of someone you'd imagine leading covert raids against 19th century American slaveowners.
That's probably why the slavers of Maryland never expected it to be Tubman who, from 1849 to 1860, would lead thirteen expeditions into slave-owning territory to rescue over seventy friends, family members, and perfect strangers.
It's also why the Confederate troops guarding the plantations along the Combahee River (South Carolina) in June 1863 never assumed it would be a small black woman leading the amphibious assault by Union troops which liberated 750 slaves in a daring wartime raid.
Expected or not, Harriet Tubman was the Spartacus behind these feats – and plenty of others.
After escaping slavery in 1849, she immediately headed back to the dystopian South as a conductor on the 'Underground Railroad' – the covert network of abolitionists who worked to smuggle slaves northward toward freedom.
Despite a number of close calls, Tubman was able to reflect afterward:
"I was conductor of the Underground Railroad for eight years, and I can say what most conductors can't say – that I never ran my train off the track and I never lost a passenger."
Creating an abolitionist force
But Tubman also understood, for all the heroics it involved, that the Underground Railroad was just a small dent in the armor plating of slavery.
For this reason, Tubman allied herself with the iconic and radical abolitionist John Brown (who we'll soon be commemorating with a Radical Tea Towel!).
Brown, who liked to honor Harriet with the title 'General Tubman', believed that America's southern plantation aristocracy could only be brought down by armed force.
To this end, he spent 1858-9 planning a raid on the federal arsenal at Harpers Ferry in Virginia with the aim of sparking a mass slave rebellion in the South.
Tubman eagerly supported his campaign, recruiting freed slaves from Canada to join Brown's fighting brigade.
When Brown was executed by the state in December 1859 after having been taken prisoner during the unsuccessful raid on Harpers Ferry, Tubman paid him the tribute: "He done more in dying, than 100 men would in living."
Despite being totally disavowed by less committed opponents of slavery in mainstream Northern politics – many of whom wanted to avoid Southern secession far more than they wished to end the institution of slavery – 'John Brown's Raid' pushed the South to the edge of rebellion.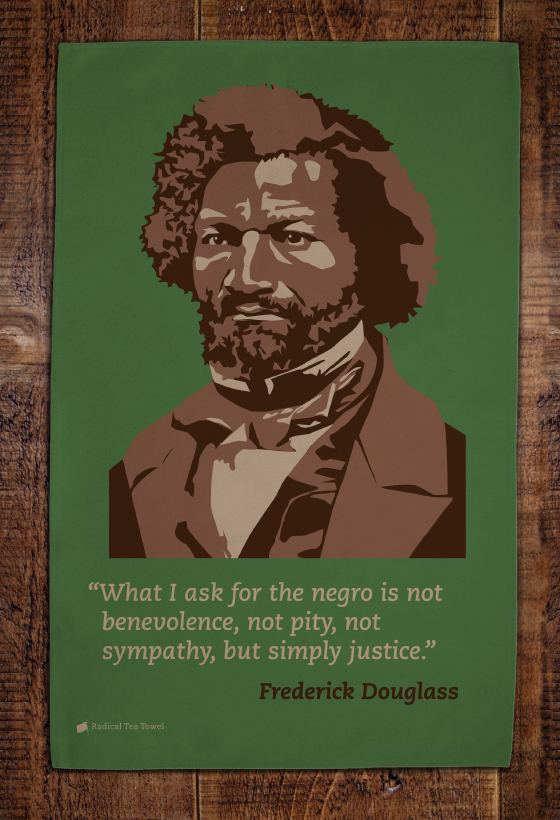 Above: Harriet Tubman aligned herself with other radical abolitionists like Frederick Douglass, who pressured Lincoln into supporting emancipation
Tubman's fight for the freedom of all slaves
Abraham Lincoln's election in 1860 pushed it over the edge.
With the outbreak of the Civil War, Tubman headed straight to the front lines, serving as a nurse at the Union army camp in Port Royal, South Carolina. She was soon an armed scout taking part in combat operations.
Most famous was the Combahee River Raid mentioned above, where Tubman used her local knowledge to help guide Union boats carrying the raiders through Confederate river mines.
She was also a participant in the July 1863 assault on Fort Wagner (South Carolina), later writing a traumatic recollection of the battle:
"We saw the lightning, and that was the guns; and then we heard the thunder, and that was the big guns; and then we heard the rain falling, and that was the drops of blood falling; and when we came to get the crops, it was dead men that we reaped."
Tubman served in the army until victory in 1865 and for a while afterward.
She led a long post-war life at her home in Auburn (NY), spending her final years on the campaign trail for women's suffrage alongside activists like Susan B. Anthony and Emily Howland. Asked once whether women deserved the right to vote, Tubman responded simply: "I've suffered enough to believe it."
When Tubman died in 1913 the eulogies flooded in from radical admirers the world over, but few words do better justice than those of her old friend, Frederick Douglass, spoken way back in 1868:
"The midnight sky and the silent stars have been witnesses to your devotion to freedom. Excepting John Brown – of sacred memory – I know of no one who has willingly encountered more perils and hardships to serve our enslaved people than you."
From the Underground Railroad to the front lines of the battle for equal rights, few Americans have ever put so much on the line to make the promises of liberty and freedom real.