Posted by Pete on Sep 23rd 2021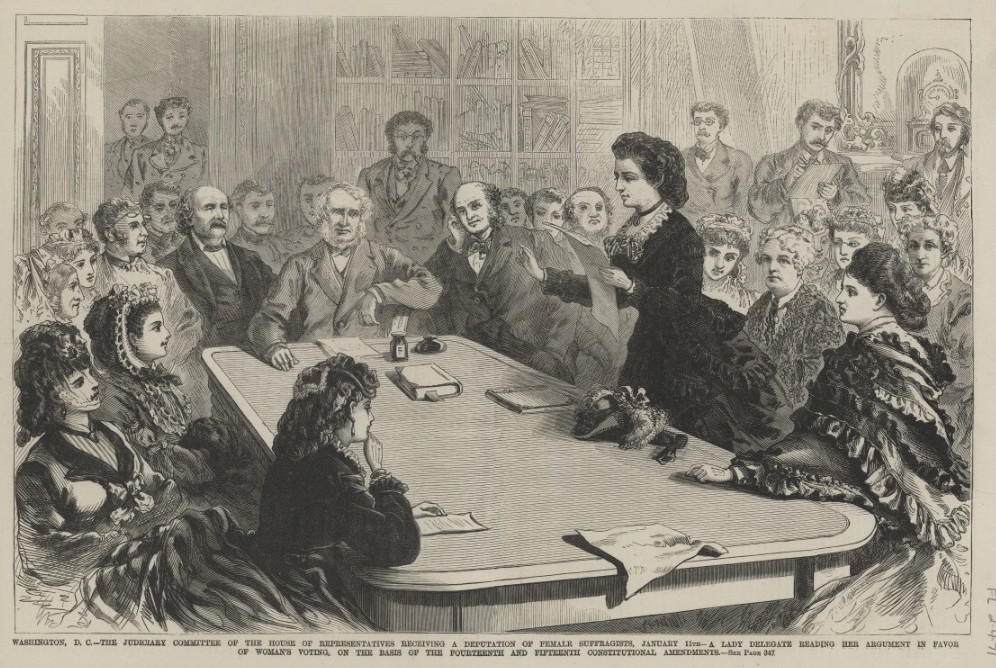 Way before Hillary Rodham Clinton, there was Victoria Woodhull...
What links free love, Wall Street, and the Communist Manifesto?

Or should I say: who?

Victoria Woodhull, the first ever woman to run for President of the United States, was born today in 1838.

Hailing from the town of Homer, Ohio, her life really was an odyssey, the sort you only find in liberation movements.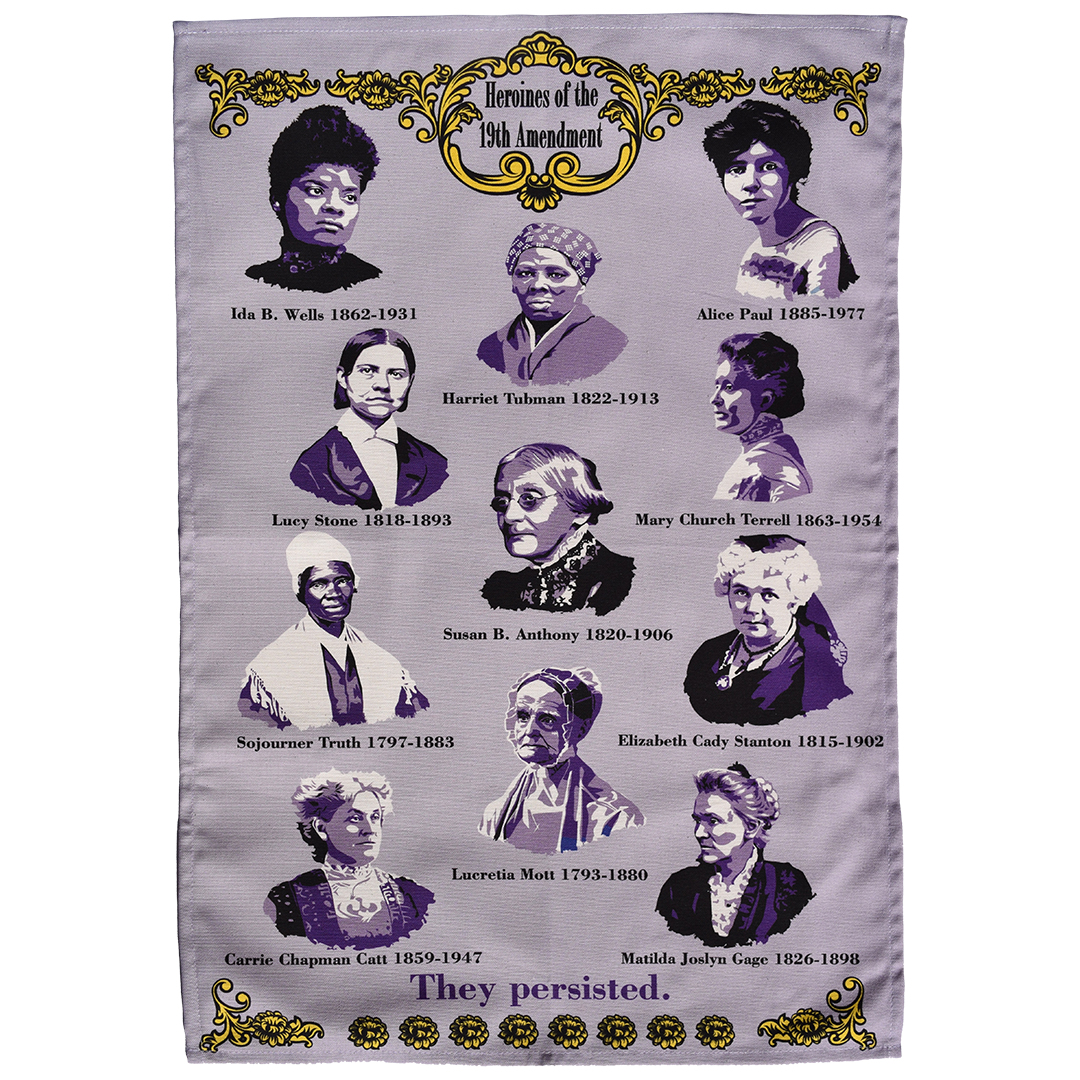 Woodhull inspired and worked alongside the many suffrage campaigners who eventually won the right to vote for women.
View our 19th Amendment Heroines tea towel

In fact, Woodhull was the "first woman" to do a lot of things – not just run for president!

With her sister, she became the first woman to work as a stockbroker, and one of the first to found a newspaper, Woodhull & Claflin's Weekly.

But despite her Wall Street escapades, Victoria Woodhull was a devotee of radical politics.

Best known for her suffrage activism, she was also a socialist and a campaigner for African American civil rights.

Woodhull was a member of Karl Marx's First International organisation, and it was her paper which printed the first English translation of the 1848 Communist Manifesto – one of the most famous texts in modern history.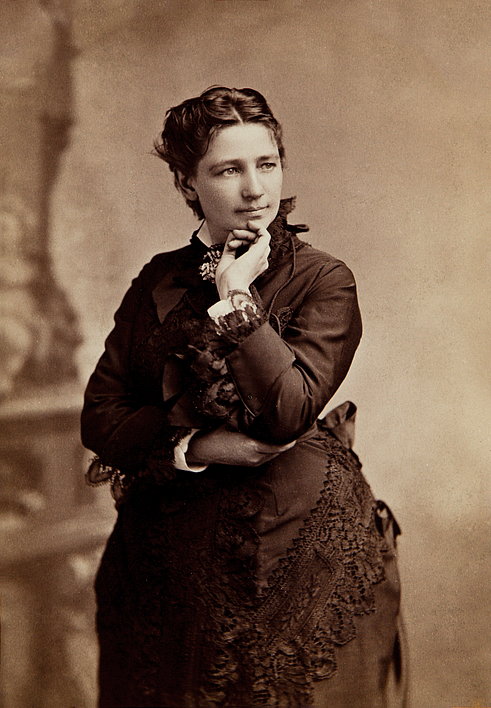 Victoria Woodhull, photographed in the 1860s.
For Woodhull, socialism and feminism were indivisible. In 1896, she wrote:
"…suffrage is only one phase of the larger question of women's emancipation. More important is the question of her social and economic position. Her financial independence underlies all the rest."
Like Crystal Eastman and Emma Goldman, Victoria Woodhull was a pioneer of socialist feminism in America.
She was also a courageous advocate of women's rights and sexual autonomy. A 'Free Lover' in the language of the day, she argued:
"I have an inalienable, constitutional and natural right to love whom I may, to love as long or as short a period as I can; to change that love every day if I please, and with that right neither you nor any law you can frame have any right to interfere."
Politically, this came with a commitment to fight existing divorce laws in the US, which were obscenely restrictive on the freedom of women to exit marriages.

Unsurprisingly, Woodhull was also an early campaigner for women's suffrage in America.

In 1871, she argued the case directly to the House Judiciary Committee, making her the first woman to petition Congress in person.

She made the argument that the 14th and 15th Amendments of 1870, which had been intended to give full civil and voting rights to black freedmen, also enfranchised American women.
"Women are the equals of men before the law, and are equal in all their rights."
Woodhull's speech was a hit with the movement, inspiring thousands of women across the United States to campaign for the vote.

A year later, she stepped things up a gear. Because Woodhull didn't just want the vote: she wanted women to be fully engaged participants in the political system.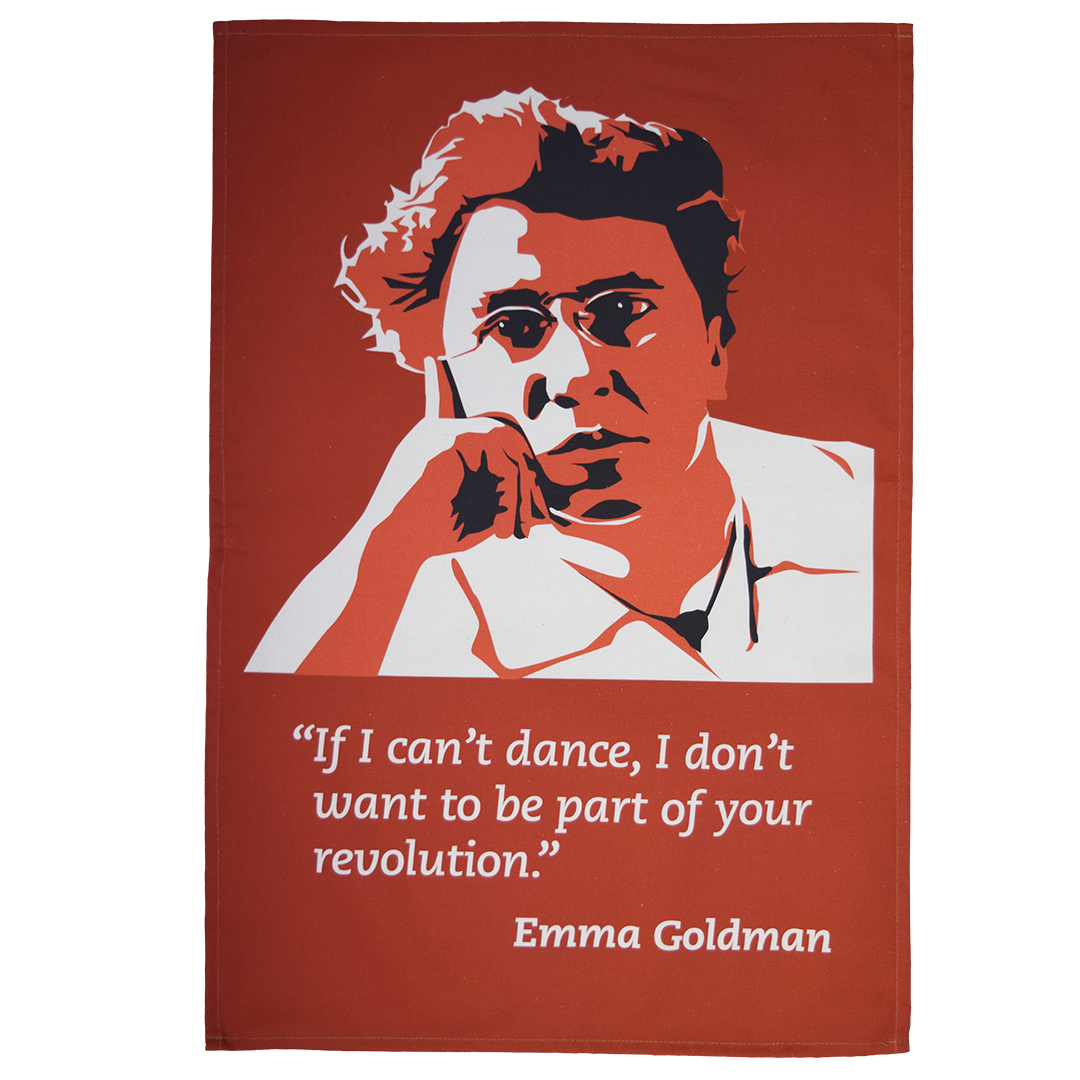 Emma Goldman was another campaigner who saw feminism and socialism as indivisible.
View our Emma Goldman tea towel

On 10 May 1872, she was nominated by the newly-formed Equal Rights Party for the Presidency of the United States of America.

The Convention also nominated Frederick Douglass as Woodhull's running mate.

Although Douglass knew nothing of this and took no part in the campaign, it was an important move by Woodhull and her allies in the context of post-Civil War feminism.

Whereas certain suffragists broke with the black radical movement after African American men were enfranchised (momentarily, as it turned out) in 1870, Woodhull remained committed to the coalition between feminism and anti-racism.

Her presidential campaign faced a barrage of sexist mudslinging in the press. They were up against the full powers of the patriarchal state – including the law.

Woodhull was actually thrown in prison for a few months when a supposedly 'obscene' article was published in her newspaper about Henry Ward Beecher's adulterous affairs.

Beecher – an outspoken reactionary – had regularly attacked Woodhull's commitment to 'free love', so when she discovered that he had been having an affair, of course she had to point out his hypocrisy.

The authorities used this as an excuse to keep Woodhull in prison over election day.

Although she had become the first woman to run for president, the election result was less remarkable. US Grant won a second term and Woodhull's vote share was minimal.

It would be another 150 years until a major US party nominated a woman for the presidency.

But Woodhull's life wasn't one of political failure. She did the hard and courageous work of movement-building for feminism, civil rights, and socialism in the US.

By the time she died in 1927, women's right to vote had been in the Constitution for nearly a decade.

Key dates in Woodull's life:
23 September 1838: Victoria California Claflin (later Claflin Woodhull) is born in Homer, Ohio
1853: Marries Canning Woodhull
1861-5: US Civil War
1866: Having divorced Canning, Victoria married Colonel James Harvey Blood, a veteran of the Union Army and fellow political radical
1870: Victoria Woodhull and her sister, Tennessee Claflin, open a brokerage firm on Wall Street. Extremely successful, they became known as the "Queens of Finance"
14 May 1870: Woodhull and Claflin found a newspaper, Woodhull & Claflin's Weekly, which reached a national circulation of 20,000 at its peak
1871: Woodhull argues for women's suffrage at the House Judiciary Committee
10 May 1872: Woodhull is nominated for the Presidency by the Equal Rights Party Convention in New York
2 November 1872: Woodhull is imprisoned for publishing an 'obscene' article exposing the infidelity of Henry Ward Beecher
5 November 1872: US Presidential Election – US Grant is re-elected as the Republican candidate
August 1877: Having divorced Colonel Blood, Woodhull moved to England, where she spent the rest of her life. She became committed to the reform and improvement of rural education there
9 June 1927: Woodhull died at the age of 88