Posted by Luke on Jul 4th 2018
"All men are created equal and have the right to life, liberty and the pursuit of happiness." - Thomas Jefferson, July 4th, 1776
Despite my childhood growing up among those bad-guy redcoats in the UK, I've always felt the draw of our American cousins and the radicalism that made the revolution.
(I'm not just saying this because it's July 4 and I'm temporarily suppressing my British accent. Honestly.)


The Founding Fathers built values to last
Washington, Jefferson, Hamilton - these guys (and 'Founding Mothers' like Abigail Adams), I always thought, had some sound ideas on how the world should be run, way before the whole 'democracy thing' became popular. America set the pace, and Europe had to follow.
Nowadays, it's easy for Europeans and outsiders to look at America and shake their heads at Trump-ism, gun craziness, and refugee children separated from their parents.
These kinds of things seem like problems caused by America.
But hang on a minute.
I think you can say that the counter-arguments and ultimate solutions to these problems still lie in values championed by that American revolution 242 years ago.
When we see Trump's latest narcissism, we can recall Abigail Adams's direction "to do good" as one's primary duty in life.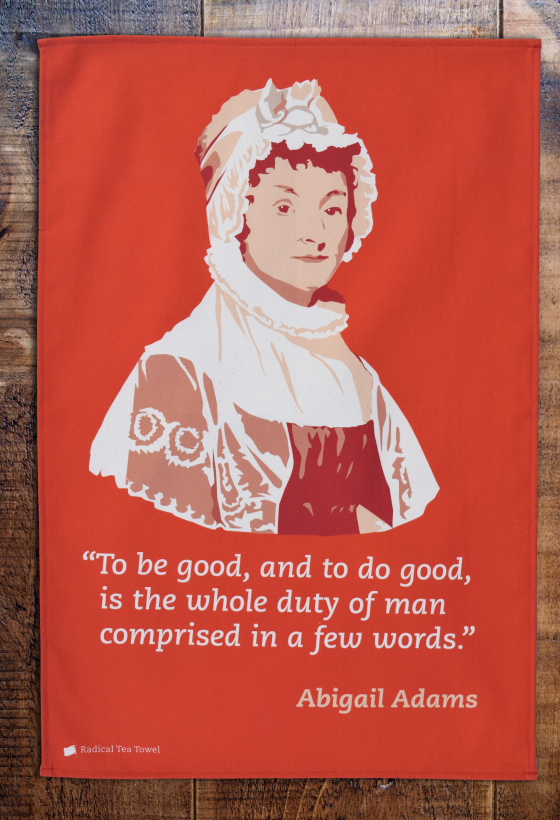 Meanwhile, it's first Chief Justice John Jay's wisdom that could be thrown at gun rights stalwarts:
And when we hear about heartbreak down on the Mexican border, let's remember it was Ben Franklin who noted the folly of suppressing people's liberties in the name of 'security'.
Revolutionary values that still matter today
Radical Tea Towel first started in the UK, but I knew that one day we'd have to cross the Atlantic and start depicting these progressive American values and heroes. So last summer, I travelled to Ben's native Philadelphia and Radical Tea Towel US was born.
I returned to the US this summer, seeking retail customers for our designs.
(If you happen to know someone who works in a store who might be interested in stocking radical tea towels, you'd be one of the world's truly wonderful people for connecting us!).
And this is where I find myself on another July 4, apparently becoming more and more American.
The other day, I caught myself saying something was 'awesome', instead of the British equivalent: 'not bad'.
Next thing you know, I'll wake up and find myself spelling 'organisation' with a 'zed'.
I suppose you can expect that kind of thing to happen when you come looking for that promised "life, liberty and pursuit of happiness", and find yourself falling in love with America.
Check out our cause tea towelsto see which values inspire you !