Posted by Luke on Aug 9th 2017
I've always loved America.
I don't know if it was because I watched a lot of the Simpsons on TV as a kid. Or that Indiana Jones was just as much of a hero for this British boy as James Bond ever was. But I often felt something drawing me to look Westwards over the Atlantic.
Everything cool seemed to come from other there.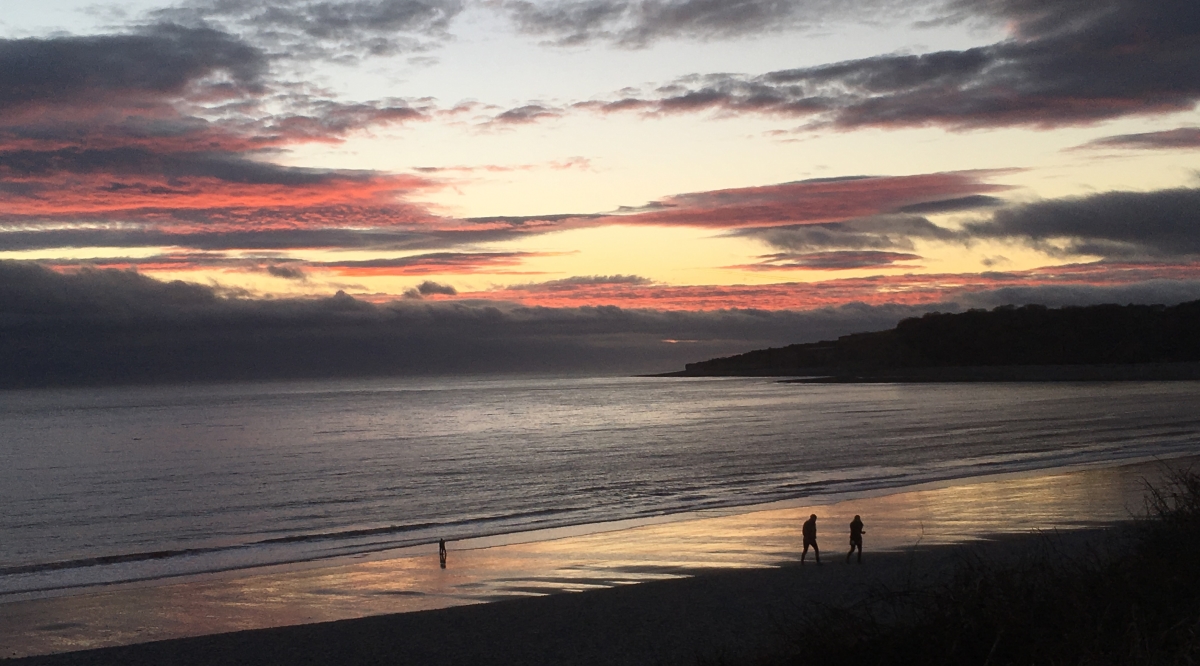 The Severn Estuary and Atlantic Ocean, viewed from my hometown of Barry in South Wales, UK
I think perhaps the crazy optimism, sense of adventure and idealism attracted me. Dead Poets' Society (Robin Williams) was one of my favourites as a teenager.
When I was younger and growing up in the UK, people generally had mixed feelings about the US, though.
I'd hear people (very unfairly!) poking fun at American brashness and 'lack of history'.
More seriously, Europeans have always been hesitant about American military and political dominance. The US was known to be a friend, but the feeling was that it couldn't always be trusted to do the right thing.
The events of September 11th 2001 seemed to bring about a new era of international debate and instability. What had felt like relative peace and the 'end of history' in the 1990s was suddenly over. And we all felt massive sympathy for the US after the attack on innocents, but also a solidarity because of the ideological attack on values and freedoms that we, too, cherished over in Europe.
Then there was this sudden focus on what the US would do on the international scene. The 2003 invasion of Iraq polarised most Europeans of my generation against the George W. Bush government and its supporters (including Tony Blair, our own UK Prime Minister).
I was 17 and just starting to wake up politically: dogmatic, idealistic, and developing a fair amount of my own brashness to boot.
It was easy to criticise the distant "Bush and those US neo-conservatives". They seemed so selfish, ignorant and brazen to me at the time. I couldn't understand how the US could keep them in power, and re-elect them in 2004.
But it was my wise old grandmother Pat who reminded me that, in truth, most Americans loved peace and weren't interested in needless foreign wars.
She said the ordinary Americans were just like us in the UK: a real mixed bag of beliefs and behaviours. It made no more sense to think of all Americans as 'warmongers' as it made sense to think of all Brits as 'stuck-up snobs'.
Mind you, I did know a few stuck-up snobs growing up!
I didn't know any real Americans in my childhood though. To my grandmother, over a lifetime of experience and interactions from the 1930s Depression through the 'decade of love', another side of America had left its impression.
Thankfully, I listened to her. I always remembered the positive things she had to say about Americans - and the importance of making your mind up about people based on your own experience, not just based on news reports and other people's stereotypes.
Let's face it: US democracy may have elected Donald Trump, but that doesn't mean he's any type of 'definition' of what it means to be an American right now.
America is clearly so much more than any one person, whatever their position. It's a melting pot of history, cultures, ideas and personalities.
And so, when I was thinking beyond home about a place that would welcome our little progressive political designs business, it was always going to be America.
I knew here we'd find plenty of inspirational people in history who'd pushed humanity in a more progressive direction. I knew we'd find a bunch of new causes to get behind, designs to put together, innovative ideas to listen to.
I knew we'd find a challenging but encouraging business environment. I knew there'd be some laughs at our weird British words, and a few smiles when you heard our accents. Maybe a bit of Southern hospitality.
I know there'll be customers for us because they're already ordering from us over in the UK, and have been asking us when we'll be coming to the US. And I'm sure we'll find some opponents here, too.
Already this year we've been to New York and to Philadelphia to research the market. I'll write again in future about Philadelphia and Pennsylvania, and why they're so important to us.
We've got new designs in production with our manufacturers (people like Walt Whitman, Susan B. Anthony and Eleanor Roosevelt), and we've shipped out a load of stock to the East Coast.
Now it's August, and we're on the eve of launching the new website for you in the US.
I'm excited. That childhood call I heard from across the Atlantic is finally being answered. I've known for a long time that we have far more that unites the people of our countries than divides us.
And now Radical Tea Towel gets to be a small part of that confluence!