Posted by Pete on Apr 9th 2019
Robeson's story is one of singing, solidarity, and the courage to stand up to injustice even at great personal cost.
---
On 26th June 1963, President John F. Kennedy gave his famous 'Ich bin ein Berliner' speech in West Berlin.
Just a few sentences before the iconic closing line, the president said:
"Freedom has many difficulties and democracy is not perfect, but we have never had to put a wall up to keep our people in, to prevent them from leaving us."
Kennedy was referencing the Berlin Wall, thrown up by the East German regime in 1961.
But he was also not quite telling the truth.
No more than five years before JFK's speech in Berlin, the African-American activist, actor, and singer Paul Robeson (born today in 1898) had been prevented from leaving the United States – for a period of eight years.
He was kept in by America's federal bureaucracy rather than a physical barrier, but the effect was just the same.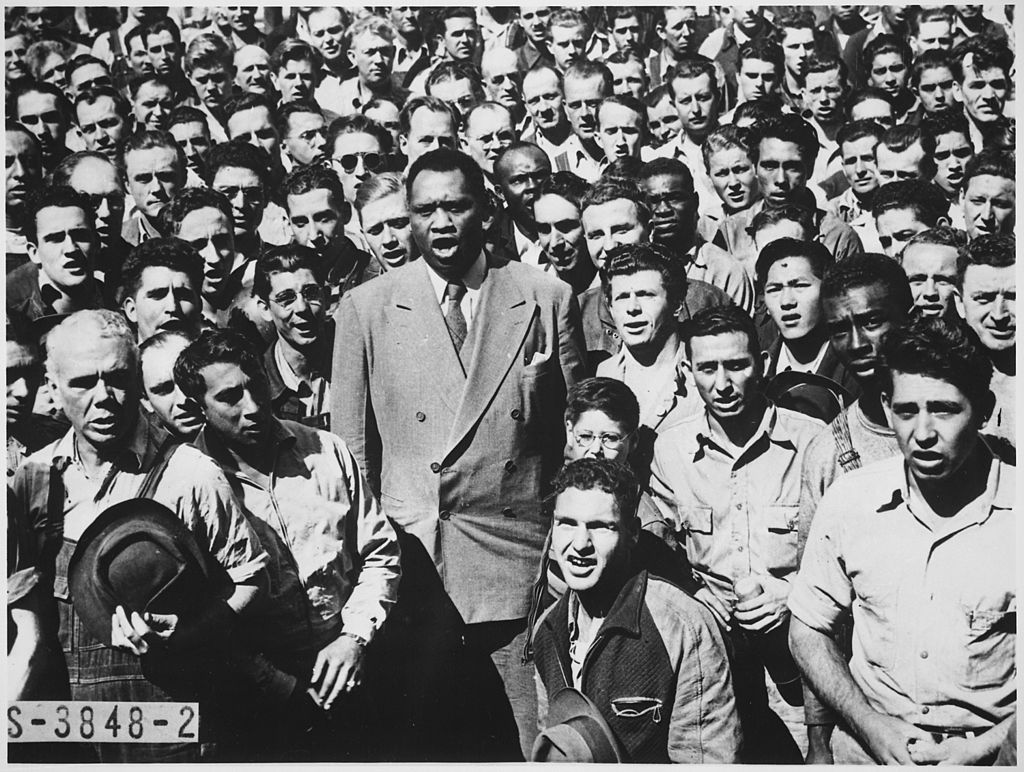 Above: Robeson, by that time already famous, leading Oakland shipyard workers in the Star Spangled Banner during World War II
America's Invisible Berlin Wall
Just as East Germany built its wall to prevent citizens who disliked the Stalinist system from leaving the country, the US State Department denied Paul Robeson his passport because he criticized the realities of American society.
By the 1940s, Robeson was well-established as both an anti-racist and pro-communist. For him, these positions were fundamentally linked.
Until the Civil Rights Movement, the US Communist Party was the only political force fully committed to racial equality in mid-century America. And in 1934 Robeson had visited the Soviet Union himself, observing: "Here I am not a Negro but a human being for the first time in my life."
Fearing that he would continue to spread inconvenient truths about American life, the same Red Scare tactics which ensnared other cultural figures like Arthur Miller, Orson Welles, and Charlie Chaplin were used against Paul Robeson to an even more devastating extent.
After the State Department denied him a passport in 1950 on the grounds that "his frequent criticism of the treatment of blacks in the United States should not be aired in foreign countries," Paul's international travels – including the theatre and singing tours of Europe on which he made his living – were brought to a standstill.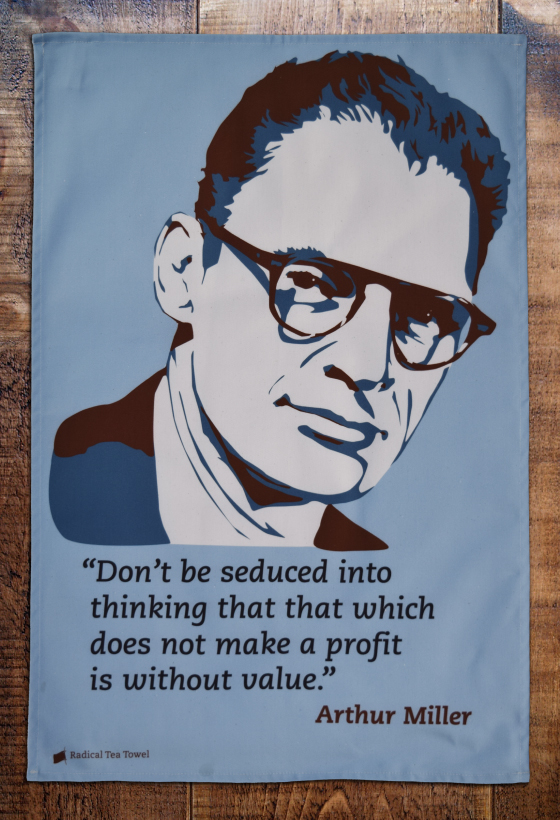 Above: See the Arthur Miller design on our site
"Let Robeson Sing": Solidarity From Across The Pond
While Paul was trapped in the United States during the 1950s, the rest of the world campaigned to free him.
Over the years he had made plenty of friends abroad, not least in the British labor movement.
Way back in 1929, while walking through London after a show, Paul came across a march of unemployed men protesting against the lack of jobs in Britain at the time and joined them. From then on, Robeson had remained a close friend of British workers.
Twenty years later, the British trade union movement returned his solidarity. Its activists launched a 'Let Robeson Sing' campaign through the 1950s, demanding his travel ban be revoked.
In 1955, the British Trades Union Congress sent a personal letter to President Eisenhower requesting he intervene and grant Robeson a passport because "the British workers and people are anxious to again hear this great son of America."
The pressure from Britain and elsewhere ultimately paid off – in June 1958, after eight years of refusal, the US government at last caved in and gave Paul back his passport. He was free to travel and sing again.
A Less Than Happy Ending
Sadly, for Paul Robeson freedom didn't bring happiness.
Years of harassment and intimidation by J. Edgar Hoover's FBI, the State Department, and the corporate press – what Robeson called the "fascist-minded people" in the US establishment – had left their psychological wound.
Beset by paranoia, Paul attempted suicide in 1961. Later that year he collapsed from a panic attack in London.
After lengthy care in an East German clinic, Robeson's doctor concluded "what little is left of Paul's health must be quietly conserved."
He spent his final years in private, passing away in 1976.
Paul Robeson was neither the first nor last American to be brought low by authoritarianism in the United States government – give our pieces on Kate Richards O'Hare and Arthur Miller a read for two other 20th century examples.
We owe it to Robeson and his contemporaries to remember just how high a price they paid fighting for justice and freedom in a nation which promised these high-minded ideals but failed to deliver them.
Read on for more stories from Radical History - and why they matter today