Posted by Luke on Apr 29th 2019
Mother's Day is traditionally about sentiment - not commercialism. We're here whenever you want an idea, but for your own Mom, the main thing is the thought.
Mother's Day is coming up in the US. You'd better not be forgetting that one!
I looked up the history of Mother's Day and apparently most cultures have a history of honoring motherhood and the influence of moms. But the stories behind these celebrations vary quite a lot.
For example, where I'm from in the UK, 'Mothering Sunday' is celebrated exactly three weeks before Easter Sunday, so it's typically held in March. It was traditionally a day to visit your 'mother church', and only later came to be seen as a day to honor the mothers of children.
Whereas for you Americans and your 'Mother's Day' in May, it's all commercial... or is it?
US Mother's Day Has Its Own Interesting Story
It came about in the early 20th century, inspired by an amazing American social activist named Ann Jarvis.
Ann launched 'Mothers' Day Clubs' in the mid-19th century: get-togethers to educate moms about health, trying to reduce infant mortality rates.
When the Civil War broke out, Ann insisted that her clubs remain neutral. Instead of taking sides, they treated, fed and clothed soldiers from both North and South.
Then in 1868, despite threats of violence, Ann hosted an event which brought war veterans together to sing 'Dixie', the 'Star Spangled Banner' and 'Auld Lang Syne', with attendees apparently reduced to tears by the show of community spirit.
My own mom loves singing and can attest to the power of music to bring people together.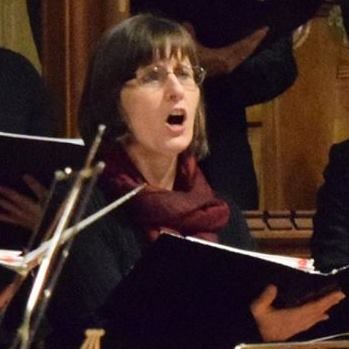 Above: my Mom, Bea, doing something she loves!
Maybe that's the solution to America's modern polarization: trans-political choirs!
Back to Ann: she continued to speak on subjects from literature to public health throughout the 19th century.
I suppose you can say that Ann was ahead of her time - reading her story reminded me of Jane Addams or Kate Richards O'Hare and other social activists of the Progressive era.
The Commercialization of Mother's Day
Ann Jarvis died in Philadelphia in 1905. Her daughter, Anna, then established Mother's Day in honor of Ann's life of service.
Anna later became quite annoyed at the commercialization of what was meant as a memorial event for her mother.
She wanted the day to be based on sentiment - not profit - and in the 1920s, threatened lawsuits against companies like Hallmark Cards who were trying to popularise the idea of sending gift cards to loved ones.
That starts to feel a little awkward as I write this email - with us being a tea towel and gift business!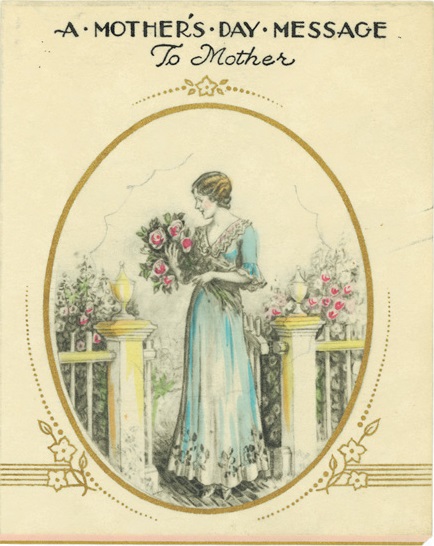 Above: one of Hallmark's 1920s designs for Mother's Day
My Inspiring Mom (and Dad!)
I'm lucky enough to have Mom and Dad still alive and well and in my life. I know that's not true for everyone. I'm grateful for them every day (even though we do fight sometimes!).
I know I don't have to buy them anything to show them how much I think of them. They'd probably appreciate a phone call though (not one about work, for a change!).
In the spirit of honouring parents on days like Mother's Day, I can say I'm really proud of them - and the business they've created.
Mom was the one who first came up with the idea of radical tea towels, made in Britain. And Dad was the one to turn her ideas into reality with his design skills.
My job is to make sure this business survives and that those designs and messages are seen by the most people possible!
I'd planned to have our largest ever shipment of tea towels arrive in the US in time for Mother's Day. But I hadn't reckoned with the difficulties of US customs and it looks like they won't now arrive til later in May (I'll write soon about my battles with customs processes - let's just say that Trump's made things a little difficult for us!).
If gift-giving is a thing for you on Mother's Day, then we do have some designs available.
And if not, no worries. We'll still be here whenever you need us.
In any case, Mother's Day in America was always meant as an opportunity to honor those who brought us into this world, however we choose to do that. And perhaps - in the spirit of Ann Jarvis's 'Mothers' Day Clubs' - it's also an opportunity for moms themselves to learn and to bridge the divides of their community.
In a couple of weeks' time, I highly recommend you make that phone call to Mom. You can tell her about Ann Jarvis and the story of how Mother's Day came about.
Or if that's not possible, recall a happy memory.
Sign up to our Radical History email list for more inspiring stories from progressive history